Recurring Dreams: Childhood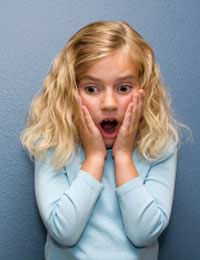 Childhood dreams are often so vivid and frightening that we remember them well into adulthood. Parents may struggle to understand the meaning of their child's dream, especially if it is a nightmare. As with adults, the dream is often some type of struggle or conflict our mind is trying to work out when we are sleeping.
Nightmares
It is particularly alarming to parents when their child has a nightmare. But, what most parents do not realise is that it is quite common for children to have nightmares until they are seven or eight years old. A few children even have nightmares in which they seem awake – sitting up in bed with their eyes open. For children who experience these types of dreams, it may be hereditary, especially if the mother or father has experienced sleepwalking or sleep talking. Some researchers believe that children who are exceptionally gifted or overly sensitive may be more likely to having nightmares than others.
While talking to your child about his or her nightmare may not prevent it from happening again, it may ease your child's fear and tension about the dream. But, try to avoid telling the child "It's just a dream" and "It's not real." This may make the child think that you cannot handle the situation and make them less likely to confide to you in the future.Here is a list of some typical reoccurring childhood dreams:
Something in Their Room
Children often dream there is a monster, boogieman, huge bug or creature in their room, in their closet, or under their bed that is coming to get them. This dream is usually the result of the child's psyche trying to work out a difficult situation in their life. Look at their life and see if something has changed recently. Is there a new sibling or stepparent in the house? Did he or she just start going to daycare, preschool, or school? New situations such as this can invoke a nightmare. Try to help your child adjust to the new situation, always offering them security and support. If the "something" in their room is a monster, this usually represents a person causing strife for the child. If the something is a bug or creature, this usually is the personification of a situation.
The "monster" in a child's room may be the parents. This happens when the child's parents are having a difficult time with something, such as finances, and are spending time arguing and acting differently because of the stress. Seeing the parents under stress and acting strangely confuses and disturbs the child. Because children are reliant on their parents, they may not want to dream anything bad about them, so they create these "monsters" in their dreams to represent the parents.
Attacked by a Wild Animal
The dream of being attacked by an animal often occurs after a child starts school. The wild animal may be a bear, a lion, or a snarling dog. The animal is normally a person or situation in the child's life that is bothersome to him or her. It could be a classroom bully or a teacher that is putting too much pressure on the child. It could also be a situation at home, something the child cannot control such as family financial or marital problems.
Something Likeable Turns Menacing
This is a dream where something the child sees everyday, such as a toy, suddenly becomes evil and chases the child. This type of dream, just like the others, may indicate some type of tension that the child finds frightening. It could be something as simple as having out of town visitors or going on vacation. While both appear to be carefree events, they can come with discord, stress, and worry.
Remember that childhood is a time when your child is discovering new things – both good and bad. While you and your spouse may have been able to argue openly in front of an infant without him or her noticing, remember that a toddler or older child will notice the stress and anxiety. Also, remember that childhood is a time of environmental changes for a boy or girl – leaving home for the first time to attend daycare or school. Know that nightmares during this time are normal and try to talk to your child about them.
You might also like...