How To Deal With Dreams During Pregnancy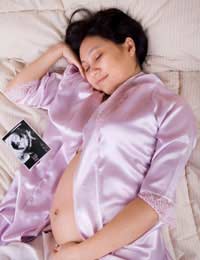 Pregnancy is a time when you go through both mental and physical changes, with hormone levels all over the place, to accommodate the growing life within you. It only makes sense that your dreams while pregnant may change as well. You may find your dreams being much more vivid and different from normal. The one thing to remember is that no matter how strange your dreams during pregnancy, they are normal. Pregnancy is a big life change, both psychosocially and physically and your dreams are going to reflect those changes as well as the fears that come with those changes.
Frightening Dreams During Pregnancy
Dreams during pregnancy may be more intense and often nightmarish. You may dream that you cannot feed the baby or that you lose the baby somewhere. These dreams are often caused by the stress of pregnancy and the fear of childbirth along with the changing hormonal level in your body. Mothers, especially first time mothers, have many questions about both childbirth and baby rearing. You may fear there will be compilations during childbirth or with the baby and while you may try to keep these fears out of your mind during the day, they may turn up during sleep. The changing hormone level may make these nightmares much more vivid than anything you have ever experienced before.
You may wonder just how good a mother you will be. In the blink of an eye, you will be responsible for taking care of every need of another human being and it is only natural to wonder if you will be able to step up to the task. If you dream that you cannot feed the baby, this may just be symbolic of your overall fear of not being able to take care of the baby in general.
You may also dream the baby is deformed or you may even dream you give birth to an animal instead of a baby. Again, this is normal and caused by stress and anxiety, as well as hormone levels. These types of dreams are especially common in first time mothers who are scared of the unknown aspects of pregnancy and childbirth.
How to Deal with These Frightening Dreams During Pregnancy
You must realise that these dreams should be given some attention. If you have a fear, even if it seems unreasonable, it will help alleviate the dreams if you try to confront the fear.
First, write down as much of the dream as you can remember upon waking. As you do this each day, see if there is a reccurring theme. If you see one, such as dreaming you cannot feed the baby; confront that fear during waking hours. Then make sure you get as prepared as you can for the arrival of the baby. Read all the books you can, watch birthing shows on television, and talk to family and friends who have given birth. If you are concerned about childbirth, attend classes so you know as much as you can about what to expect. If you are scared of childbirth, it may help to have a midwife there for support.
You don't want information overload because sometimes the more you know, the more you worry, but you should be able to judge if the information is helping you or just making matters worse. Try relaxation techniques such as deep breathing and meditation to help you deal with stress during the day.
Other Dreams During Pregnancy
Some studies have shown that many women dream of buildings and houses during pregnancy. They may dream a new extension is being added on the building or a porch is being added to the house. As the pregnancy progresses, the buildings or houses grow in size. This is symbolic of the change your body is going through as it becomes larger to accommodate the growing baby.
Some mothers have erotic dreams. This is more likely to happen in the last trimester, which is strange to many women because this may be the time they feel least sexual. But, that may be why they are having these dreams. They may be concerned about gaining weight and looking physically undesirable.
If you have odd dreams during pregnancy, rest assured that you are not the only one. Practicing relaxation techniques to help ease the anxiety and preparing yourself as much as you can for the birth and caring of a baby may help ease these dreams a bit.
You might also like...