Interpreting Reincarnation Dreams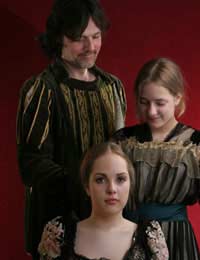 Have you ever had a dream that seemed so real that you felt you had actually lived the events of it before? If so you may have had a reincarnation dream. Reincarnation is the belief that parts of your essence or spirit survives after death and while a new personality is developed in each new life, part of the old one remains. So in a reincarnation dream, you may actually be recalling memories of a past life. In many cases, a reincarnation dream may be reoccurring throughout your lifetime.
Intensity
Many people may find their reincarnation dreams are very intense and emotional. The dream may stir up feelings that surprise you. It may be graphic and upsetting, shaking you up so much you may be driven to tears upon awaking. While no one can tell you for sure if you are dreaming of a past experience or simply having a nightmare, many people believe the reincarnation dreams will be very powerful and vivid because you have lived through this once before.
Example of a Reincarnation Dream
Edgar Cayce was told of a teenage girl who had a reoccurring dream that she was with her mother in the Victorian era, looking at storefronts. She turned away briefly and when she looked back, her mother was gone. The girl asked the storekeeper if he had seen her mother, then she walked into darkness.
It was theorised that this type of reincarnation dream occurred when the girl is feeling neglected and abandoned in her current life. Perhaps the dream was her subconscious' way of telling her that her current feelings of abandonment need to be compared with the feeling of actual abandonment to put the current situation into perspective.
Why Reincarnation Dreams
It is not clear why some people have reincarnation dreams. Some think that perhaps you are heading towards a similar situation in this life, so your subconscious reminds you of what you have been through in the past to try to either encourage you or deter you from making the same choices again. These dreams of the past can help prepare you for current life situations.
Does Everyone Have Reincarnation Dreams
Edgar Cayce felt that people were reincarnated until they reached a stage of perfection. That perfection was reached when one had "the awareness within each soul of the soul's oneness with God." If that is true and we are all reincarnated, it does not necessarily mean we all have reincarnation dreams. If you do not have reincarnation dreams, but would like to know if you have had past lives, therapy such as hypnosis may help you get in touch with memories of your past lives. Perhaps after you become aware of past lives, you may begin experiencing reincarnation dreams.
How can you know if you have a reincarnation dream? Sometimes you may simply know by a gut feeling that comes from deep within. These memories often come to us as dreams because sleep is when our mind is at its freest and our subconscious allows us to remember them. A reincarnation dream may be upsetting, but it may be trying to remind you to avoid these past incidences in your present life.
You might also like...
I just had a dream and I think it really is me being reincarnated. I don't know exactly how I d!ed and got reincarnated but what I did in my dream was to go to the apartment that me and my mom are living. I remember being scared not to d!e again because "this is my last life". That was what I said in my dream and somehow, that's what it really felt like. It felt like this is my last life and I'm scared to die again because I would not get reincarnated again, meaning I'll be lifeless, nowhere to find. When I woke up, I was really thankful that it was just a dream and after a few minutes, I teared up because I got too emotional.
Lol
- 25-Mar-22 @ 1:56 AM
Someone dream of me being reincarnated being.he said people was talking about a very wealthy man that everyone want to see.he said he never knew I was the one.wen he came to look for that rich man,that he saw that it was me.so the spirit that took his body around told him I'm a reincarnated being.so pls what's the meaning of the person dream.explain to me.thank u
Angel
- 12-Jul-20 @ 9:59 PM