Dreams of Healing Including Dream Incubation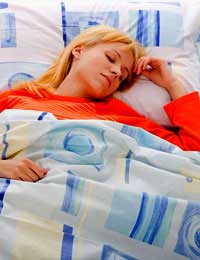 The mind and body desire to maintain a balance between the two and dreams often help us do that. While we hate having nightmares, they can be psychologically healthy. They can help force out certain negative emotions and fears we have buried deep within us. But, in order to do that, the subconscious and conscious must work together to begin the healing process.
Scientists believe that the left lobe of the brain acts as our subconscious. It works by intuition and making connections between things that our conscious does not notice. The right lobe of our brain represents the conscious. This side is more rational and analytical. The conflicts these two parts of our brain strive to resolve can be a struggle within us or with others in our lives.
Healing Dreams in Ancient Times
Ancient man believed that dreams could heal us, not just psychologically, but physically as well. They often visited temples, known as Aesculapia, in hopes of falling into a deep, healing dream. The Egyptians built "dream beds" to help facilitate a dream in which they would be healed or receive advice from a god. Aristotle believed that if you were ill, you could often dream of an illness because your subconscious would be able to notice symptoms you would ignore during the day.
Healing Dreams in Medicine
The Hindu and Chinese both believe that dreams can be used to diagnose health problems. Tibetan medicine has three major classifications of dreams: bad dreams, reflective dreams, and auspicious dreams. A bad dream can foretell a disaster or death. A reflective dream deals with stress and emotions. Auspicious dreams are seen as a sign of good fortune or recovery. Tibetans believe that only dreams occurring just before dawn are important. They will usually take a patient's pulse and a urine sample during this time as well as ask the patient about their dreams upon waking. Using all this, they will then make a medical diagnosis.
Dream Incubation
Can you control your dreams so you can seek guidance from your subconscious? Many believe that you can help heal yourself psychologically through the use of dream incubation. During dream incubation, you come in contact with your subconscious and all the information it stores. By gathering this information during sleep, you can process it during waking hours to help better understand your feelings and emotions and make any changes needed towards a healthier mental state.
When trying to incubate a dream, you first step is to go over in your mind what is bothering you. Do not try to solve the problem, merely concentrate on what it is that is bothering you. You may even devise a question about the subject. For example, you may ask, "Why can't I seem to forgive?" if you have been holding a grudge against someone.
Repeat the question over and over in your mind as you drift off to sleep. You may even chant the question like a mantra to help increase the relaxation sensation. Make sure you have a pad and pen ready by your bedside to write down your dream when you awake.
When you wake up, record as much of the dream as you can remember. Try to write down all the specific details as well as the question you asked. You may recognise the answer to your question immediately upon waking, but wait until that night to try to interpret it. Once you see the answer, you may feel it in your gut. You will also want to wait a few days to reread the dream to make sure the original analysis is correct.
Our dreams are there to heal us both physically and mentally. If you have a dream that something is wrong physically, ask yourself if you may have been ignoring signs of illness during the waking hours. If you are suffering from stress or need to make an important decision, you might want to try dream incubation to help heal yourself mentally.
You might also like...