Interpreting Lucid Dreams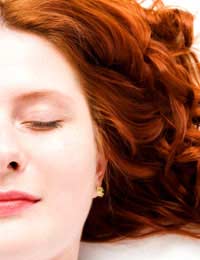 Have you ever had a dream in which right in the middle of it, you went "Wait a minute, I am dreaming!" If so, then you have had a lucid dream. In lucid dreams, we know that we are only dreaming and most of us, once we realise this, wake up. But some people, through practice, can stay in a lucid dream. When you can stay in a lucid dream state, you have the ability to control the dream such as what happens in it. If you have a lucid dream that is threatening, you can confront the threat. Controlling your dreams can make you feel very confident and powerful. You can use your lucid dreams to help you fulfil your fantasies or solve a problem you have been ignoring during the waking hours.
Rehearsing
Lucid dreams can be used as a way of rehearsing something before you actually attempt it in real life. Our brain activity during lucid dreaming is the same as when we are awake, so if you do something in your lucid dream, it is like a way of training in your sleep. Not only are they helpful in that way, but they are also very useful for those that suffer from nightmares. Being able to realise that you are only dreaming during a nightmare may help reduce the nightmare frequency.
High/Low-Level Lucidity
There are two types of lucid dreams: high-level lucidity and low-level lucidity. High-level lucidity is the dream state in which you are fully aware that you are dreaming and no harm can come to you in this dream. In low-level lucidity, you may not be aware that you are dreaming. While you may be able to control the dream, you may still fear physical threats. Because lucid dreams can have varying levels of awareness, how can you tell if you are having a lucid dream? You can use reality testing to check. If there is text nearby, read it then look away.
When you look to read it again, it will have changed if you are dreaming. You can use the same example with a watch or clock. Note the time, then look away quickly and look back at the watch or clock. If it is a dream, the time will have changed dramatically. If you find yourself in a room, flip a light switch. Dreams rarely have changing light levels. Try jumping in the air. When in a dream state, if you jump, you often float, fly, or looking like you're walking on the moon.
DILD's and WILD's
There are dream-initiated lucid dreams (DILD) and wake-initiated lucid dreams (WILD). In a dream-initiated lucid dream you start out in a normal dream and eventually within this dream, you realise you are dreaming. With the wake-initiated lucid dream, you go from your waking state into the dream state with no lapse in consciousness. DILDs are what you might experience naturally, while a WILD is what happens when you attempt to induce a lucid dream through technique and practice.
If you would like to learn to evoke lucid dreams, you will first need to be able to remember between two and three dreams each night. Keep a dream journal to help you practice remembering your dreams. Once you have that down, explore one of the methods that can be used to evoke lucid dreams such as WILD or mnemonic induction of lucid dreams (MILD). Lucid dreams can be fun, wild, relaxing, and enjoyable. But lucid dreaming can also be used to help you confront your fears in dreams and become more self-assured.
You might also like...
In my case I realize I'm dreaming but I can't wake up, and I also can't control the dream. I'm conscious but being dragged through the dream. I'm not as fast as I'd like to be either. Every time I realize I'm in a dream the level of the dream is so deep that it's just me being stuck in it Other times I can wake up but only once I pass through all levels of dreams I'm having at each stage of subconscious? I just know there's levels to the dreams and they go deeper, and I have to work my way up into consciousness. It usually takes no time but it still has to happen that way. I'd like some answers ??
Amor Fati
- 24-Aug-20 @ 4:34 AM