Dreams Involving Different Places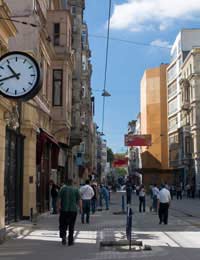 Your dreams can take you many places in their quest to help you solve issues and understand situations. Some people dream of being in a huge city, while others may occasionally dream of being in a forest. You may dream you are in the middle of a war zone or at the seashore but not understand what it means.
No matter where your dreams take you, it is important to pay attention to the setting. This can help you better understand your dreams and address any issues that need to be resolved.
A City
Many people dream of being in a hustling, bustling city setting. It may resemble the city in which they live, a city they used to live in, a city they have visited, or a city to which they have never been. Regardless, even if you think you know what city you are in, it will probably take on a generic look and feel. Some landmarks may be recognisable but do not expect the city to look exactly as it does during waking hours for your subconscious will distort it.
Dreaming we are in a city is symbolic of the social side of our lives - that is our communication and interaction with others. When you dream you are in a city, your mind may be exploring your feelings about being sociable as well as how you relate to others.
A Battleground
As might be expected, if you dream of being in the middle of a war zone, you are probably experiencing some type of conflict in your life. This can be a conflict with others – your spouse, your child, your boss – but more than likely, it is an inner conflict.
We are often torn in certain situations and with making certain decisions. A dream of being in on a battleground may be telling us that we need to quit straddling the fence in a certain situation and make a decision, difficult as it may be.
A Cave
Dreaming of being in a cave is a very common dream. The cave in your dreams is often an emotional cave in which we retire to protect ourselves from outside people and situations. If you have been going through a draining, difficult time, dreaming of being in a cave may help you regroup and reenergise yourself so you can emerge with a new strength and clarity.
The Forest
Often, when you dream of being in a forest, you may feel lost, confused, or removed from your emotional comfort zone. You may be seeking certainty or looking for something new. But, leaving a place with which we are comfortable is often a scary experience, just like being in a forest. A forest can be menacing and make us feel insecure, the same feelings often generated within us when trying something new and unknown.
The Seashore
If you are in a situation that you have been struggling to deal with that has made you feel as if you are at your wit's end, you may dream of being at the seashore. The land symbolises the familiar ground – everything you have tried, unsuccessfully to use to come to a resolution. The sea represents the unfamiliar, but new options we must face in order to resolve the situation. The dream can be an indication of change and growth.
Onstage
Have you ever dreamed of being on a stage in front of everyone? If so, you have probably been concerned about how others view you. After all, on a stage, we are exposed for the world to view both our strengths and weaknesses. These dreams often come during times of change in our lives, such as when you are a new employee and may feel that your every move is being scrutinised.
Dreaming of being in a place such as a forest or cave can be a bit frightening, but you must realise that is it simply your mind's way of trying to resolve an issue or regenerate your spirit after a trying time. When you have a dream in which you are in a certain place, write down as much of it as you can remember, then see how that may pertain to what you are going through during the waking hours.
You might also like...