Dreams Involving Characters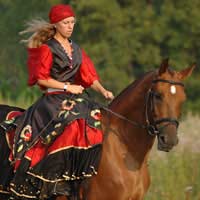 We can have many different characters appear in our dreams. It may be the dream lover you have yet to find in real life or it could be a celebrity. It may be your childhood best friend you lost contact with years ago or a close relative that recently died. The incredible thing about our dreams is that they can be filled with an endless cast of characters. Some researchers believe that each character that appears in our dreams represent certain elements of ourselves. But some believe that while some characters may be representative of parts of us some are to be taken literally.
Here are some interpretations of characters often found in our dreams:
Strangers
These people in your dream bear no resemblance to anyone you know. They do usually have a stereotypical identity though. For example, the generic character may be a policeman (representing authority), a spy (who is covert), or a gypsy (usually seen as being nomadic).
This generic stranger is usually representative of a part of you. This character may be symbolic of an aspect of your personality that you have had to suppress for whatever reason. For example, if you are in a relationship with someone who is very demanding, you may dream of maids or servants. The servant characters are symbolic of the part of you that feels "enslaved" to your partner.
Fictitious Characters
This type of dream may include a kindly neighbour that does not exist, a dear sister you do not really have, or a fictitious character from movies or television such as Peter Pan. This dream can mean one of two things. It can be an exaggeration of either positive or negative qualities of someone you know or it can be a quality you yourself possess. You will need to examine the exaggerated quality exhibited in the dream and ask yourself if it belongs to someone close to you or is one of your own qualities. For example, if you dream that you are with Cinderella, look at your life and see if you feel you are being mistreated by someone.
Family
When you dream of real family members – your spouse, child, or parent – they are typically representing themselves. The dream can be used to help you better understand that family member. The dream may give you insight into why they act the way they do and how what you do may affect them. For example, you may have been particularly harsh with your husband lately, but may not realise it until you dream you are literally biting his head off!
Celebrities
When we dream of celebrities, they are usually symbolic of the obvious qualities they possess. These may be things you are striving for – fame, power, and success. When you dream of a celebrity, you need to pinpoint the one main quality you associate with him or her. Once you have that defined, you need to decide if this is something for which you are striving or something that represents a quality found in someone else in your life. Remember that just because you dream of a movie star that is highly successful; it does not necessarily mean you long to be a movie star. Our dreams often strip things down to the very essence of the issue. Perhaps dreaming of a movie star merely means you desire to be more successful at your job.
Your dreams are always trying to help navigate you towards a healthier life both mentally and physically, so it is imperative to take time to understand them. Determining who the characters are in your dream can help you better understand what the dream is trying to tell you.
You might also like...
Dreamed about eagles flying landing on my cousin that passed away already on amoutian topmore eagle came and land and turned into people
juanito
- 9-Jan-16 @ 3:13 PM
what about friends or your crush? I dream about them a lot.
May-Me
- 20-Dec-13 @ 11:14 AM