Dreams Involving Relationships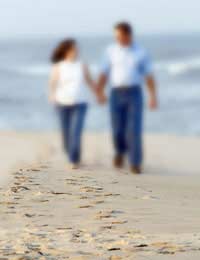 Relationships can often be unpredictable. You may spend time analysing conversations trying to decipher moods, and running various scenarios through your head during the day. So it only makes sense that our subconscious would also try to evaluate our relationships during our sleeping hours. Our psyche may be looking for signals of love or warnings of betrayal. Our dreams of relationships change as we age and learn more about interaction and communication.
Adolescence
Adolescence is a time of learning about love, sex, and relationships. Most people fall in love during their adolescence and many suffer broken hearts. When you dream of a love interest, your dream may be trying to figure out if someone is attracted to you. Your mind may also try to figure out what you can do to attract his or her attention. If you dream of someone you find attractive, you may awake asking yourself if you are noticing signs of attraction from your love interest or if you are merely dreaming of what you hope will happen in the future. You will have to analyse any signs of interest exhibited during waking hours to determine the answer to that question.
Twenties
By the time you have reached your twenties, you may have gone through the puppy love stage. You may begin to understand what you want in a partner and what characteristics you want to avoid. Your dreams involving relationships may have moved beyond focusing on sex and love and begun to focus on finding a love that will truly make you happy. You may find yourself dreaming not about people you know, but mere acquaintances or even strangers as romantic interests. Some people even find themselves having intimate dreams of family members or friends. While this may seem strange and shocking, do not be alarmed. The person of which you are dreaming probably possesses a quality that you find attractive and the dream is your mind's way of evaluating that quality in a lover.
Thirties and Forties
Many of us have found love by the time we reach our thirties and forties. The problem is we may be looking for new ways to make that relationship healthier. Even if you have not found a life partner, you may conjure up a dream lover – someone who has all the qualities you know you are looking for in a mate. These qualities are normally based on what you have experienced in the past – in both good and bad relationships. Many people who are in relationships find themselves dreaming their partner is cheating on them. This is common and unless you notice any conscious signs that your partner is cheating, you probably should not be too concerned. It is as if your mind has told you that you have found love, but now you must work to protect it.
Fifties and Sixties
By the time you reach your fifties and sixties, you may be opening up to new experiences. You may have noticed what you missed in life and seek out those experiences in love. You may dream of past partners, often your first love, and the time in which they made you happy if you are having conflict with your current partner. But, rather than wanting to get back together with that first love, your psyche is more than likely trying to use that past experience to help you work out problems you are having with your current relationship.
Seventies through Nineties
While sexual dreams may diminish with age, most of us never stop longing for a perfect love. During the later years in life, you may dream of past relationships and your psyche may try to analyse why they did not work as well as what part of the relationship you really enjoyed. If you had an enjoyable but failed relationship, you may find yourself dreaming of the completion of that love. Even at this advanced age, our minds and hearts are still trying to understand the nature of love.
Our dreams involving relationships evolve over the years. When young, we may dream more of sexual experiences yet as we age, our dreams explore true love. Remember that even if you dream of someone else when you are currently involved in a relationship, it is your psyche's way of trying to iron out any problems you are currently experiencing.
You might also like...
@Yhang - if he is shrouded in darkness, it may mean that he's in a dark and dismal situation that he does not wish to be in. It would depend where you were sitting. If you were in a lighter area, it may mean he sees you as a way out, especially if he was trying to communicate via his eyes. However, the fact he has a wife and two kids would mean he is powerless to move from the situation he is currently in. It may ultimately mean that you both want to be together, but can't.
JennyL
- 2-Oct-15 @ 2:46 PM
I dreamt about my boyfriend. He was standing in the dark with big trees he looked so sad and the eyes was talking to me I was jusy sitting in the bench and looking to him.. But in real life he has a wife and two kids. What does it mean?
Yhang
- 2-Oct-15 @ 7:06 AM