Improving Your Dream Recall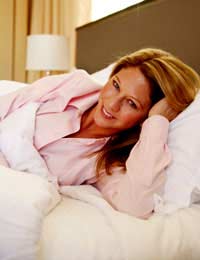 Why it is important to remember your dreams? Your dreams are your emotions and thoughts in their rawest form. Society has taught us to act certain ways and conform to certain stereotypes during the day but in our dreams, our true feelings, both good and bad, are often revealed. Understanding your dreams is important to helping you live a better life, both mentally and physically.
If you are not among those who can easily remember their dreams in great detail, do not despair! There are things you can do to help improve your dream recall;
Regular Sleep Patterns
One key to remembering your dreams is to have a regular sleep pattern. This is hard for most adults because they have so much going on in their lives, but having a regular bedtime and a regular wake up time can aid you in remembering your dreams.
Avoid Alcohol
If you drink alcohol or take medication, it may inhibit your ability to remember your dreams so avoid that if at all possible. Also, avoid eating fatty foods too close to bedtime.
Clear Your Mind
Before you fall asleep, take a few minutes to clear your mind of all thoughts of the day. Concentrate and see yourself waking up and writing down your dreams. Tell yourself that you will remember your dreams when you awake. Repeat this over and over in your mind as you lay there.
Dream Journals
You will want to keep a dream journal. Simply place a notebook and pen by your bedside so you are ready to write down dreams, whether you wake up in the middle of the night or when the alarm goes off. If you do not like to write, or tend to wake up in the middle of the night after a dream, set a small tape recorder beside your bed and record your dream.
Lay still for a moment when you first awake. Physical movement tends to make you forget your dreams. Begin thinking about what you dreamed while lying there. Think about going back to sleep and find your way back into your dreams. Try to remember certain images and events from your dream. As you remember the images and events, try to place them together to get the overall story of the dream. As soon as you can remember the dream, write a detailed description of it in your journal. Who was in the dream? Where did it occur? Was it day or night? Were you in it or was it just other people? Be sure to write down how the dream made you feel. Were you scared when you woke up? Did you feel warm and loved? If you cannot quite find the right words, draw a picture. Also, be sure to write down the date and a descriptive title for the dream entry as well.
Reread your journal entry later that day. Do not try to make any interpretation of it just yet, but see if you notice any familiar themes reoccurring in your dreams. Make note of any characters or images that may keep showing up. If you want, mark them with a highlighter so they are easy to spot.
If none of these suggestions help you remember your dreams, set your alarm clock to awake you 45 minutes earlier than usual. Try to associate the sound of the alarm with the thought of remember your dream.
Your dreams are important – many of them are not "just dreams." They are trying to tell you something, but before you can interpret them, you will need to be able to remember them. Take note of all these tips and with a little practice, you should be able to remember your dreams.
You might also like...
I dreamt of my son being run over, and the driver driving away, & me seeing my son layer in a coffin, I woke up immediately, my son at the moment is having intense treatment for lukemeia. & 3 months ago I was at my friends side as her daughter passed away from lukemeia, my mother has just been diagnosed with lukemeia, and I myself am in remission from non hodgkins lymphoma, having had a transplant, I hope the meanings of such horrific dreams are that things are to change, the information help,d a little, & I put the dream down to extreme stress & being around very Ill children,,,
Debbie
- 5-Jul-12 @ 5:28 AM