Dreams of Water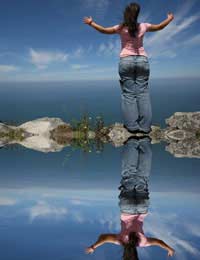 Many people find themselves dreaming of bodies of water but they may misinterpret the meaning of the dream. Traditionally, it was thought that dreams of water represented the unconscious mind, one that we may all share. However, many researchers now believe the dreams involving water can take on many interpretations, depending on how the water appears in the dream and in what form it is found.
Below are some common dreams that involve water and their possible meanings:
Travelling on a River
Just as a road may symbolise your path of life, a river can also represent the path you are taking. In river dreams, we often find ourselves going down the river in some type of vessel. How we manoeuvre the vessel on the river may give you an indication as to how you are dealing with current situations in your life. You may find yourself having an exhilarating ride down rapids or you may find that your ride is terrifying. You may lose passengers out of the boat or the boat may even capsize. If you find yourself manoeuvring skilfully through the rapids, you are ready to face any challenges that may confront you in certain situations. However, if you are having problems, you may feel you do not have what it takes to complete the situation you are going through.
The Ocean
The ocean in a dream can take on many meanings: that of fertility, that of power, but also of something that is a bit foreign to us. If you dream you are being swept away at sea, you may be feeling that a recent situation is challenging and that you may not quite know how to handle it. The key thing to concentrate on when dreaming of the ocean is, was it a positive experience? Although the ocean can be symbolic of mystery, dreaming of it is not always a negative thing. You may be a bit frightened, yet enjoy the mystery of a new experience or event in your life.
Rain
Rain is usually associated with sadness in dreams. People who are sad about a situation in their life may dream of rain and be able to see individual drops. If you see rain falling into a container and the container overflows, you may be feeling that whatever situation you are dealing with is overwhelming you and it is getting to be too much for you. Dreaming of a downpour of rain can also signify a flood of emotions. You may be making a difficult, but necessary choice in your life.
Peaceful Pool
If you dream of a pool, it can by symbolic of a need to refresh yourself. A pool may remind you of a more peaceful time when taking a dip in a swimming pool was a pleasurable activity. This dream can be a sign that you need to allot more time in your life for yourself and to do stuff that you find enjoyable.
Dreams of water are often associated with feelings – either good or bad. You need to assess the dream to see if the water is enjoyable, such as a peaceful pool or a raging sea, to decide what the dream is trying to tell you.
You might also like...
What does it mean when I can transport my body using my mind from place to place
What does it mean when I dream of being able to control water? For example In my dream I can't control the flow push it back bring it forward turn it off make itrun etc...
Recurring dream of water that is left running and when I get back I see it and turn it off.
John
- 26-Mar-19 @ 9:38 AM