Dreams of Testing or Being Back at School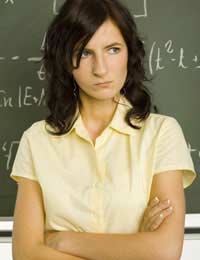 School is not just a time of learning the ABCs and addition. School is a very important part of our social development. We learn to make friends and to share with others. We learn to become more self confident in our abilities or learn there will be things at which we will be failures. Some of us fall in love and some are bullied.
There are many demands made on students whether they are in kindergarten or graduate school. But, for most people, school is a major part of most of their lives. So naturally, dreams of taking a test or being back in school are very common.
These dreams can have a positive or negative connotation, depending on the factors involved. You will need to look closely at your dream and make notes of everything happening within that dream before you can truly understand it.
Taking a Test
Many people dream they are back in school taking a test, even those who finished school long ago. If you dream you are taking a test but are having difficulty and are scared of failing it, it may be symbolic of your mood during waking hours - anxious and agitated.
There are probably factors within your dream that are causing you to fail the test, such as your pen does not work or you run out of time before you can complete the exam. Dreaming of failing a test because you are hindered in some way can indicate a lack of self-confidence.
Is there a situation in your life in which you do not feel prepared or in which you feel you are not being accepted? You may feel you are not measuring up to the expectations of others, whether it is your parents, your spouse, your children, your boss, or someone else in your life. You may be subconsciously looking down upon yourself while try to cover those feelings during the day. If you dream you run out of time before you can finish the test, this may indicate that you are feeling pressure during the day with all that you have to do and the amount of time in which you have to do it.
This dream is not actually about the test, but it is the factors causing you to fail the test that are causing you to feel stressed and nervous. Look at your life and see what might be causing you to feel you are not good enough. See if there are changes that can be taken which will make you feel better about the situation.
Back at School
What is happening in your dream of being back at school? Are you are seeing old friends and having a good time? In other words, is it an enjoyable dream? If your dream of being back in school makes you feel good, you may feel you are not enjoying life to its fullest in your waking hours. Are you still in touch with close friends? Your dream may be telling you that you need to reconnect with those that are important in your life. Or you may just want to remember a time in your life when things were easier – before you had to worry about paying bills, performing at your job, raising children, and keeping your relationships going.
But, just as the test taking dreams can be due to a lack of confidence, so can the back at school dreams. If school was not a pleasant experience for you – you had test taking anxieties, you were bullied, you were unpopular – this dream can show that you are feeling tense or unprepared about a current situation.
This dream can also mean you are ready to improve upon yourself. It may be telling you that you are ready to further your education, whether it is in the form of formal schooling or life lessons. Whatever is going on in your life, this dream may be telling you that you are ready for the next level.
If you have a dream about testing or school, you really need to reflect on what kind of experience school was for you. Was it a positive experience, with lots of friends and achievements? Or was it a negative experience with pressures and tension? If it was a positive experience, you may long to recapture that feeling you felt from school. If it was a negative experience, you may be going through a current situation that has you on edge and feeling unsure, for whatever reasons.
You might also like...
Most of the time my dreams takes me to school or college and fear about mathematic subjects very often. Sometimes lost way to my hotel room or searching my room number. These two really making me more nervous because I remember all the elements I seen and the talks
vallavan
- 4-Jul-18 @ 6:44 AM
Dreamed if gods hand reach from the sky, the weather was soo beautiful I was just standing there lookingup