Dreams of Flying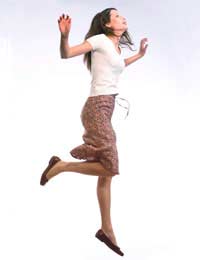 Dreams of flying are one of the earliest recorded – even before man could fly in aircraft. About one third of the entire population has said they have had at least one dream in which they were flying and it is equally as likely to occur in women as in men. It is a dream that can occur early in life but can continue throughout your lifetime.
Dreams of flying are frequent and in many cases, you may even be aware you are flying while you are dreaming it. This is called a lucid dream – one in which you are aware that it is not reality and that you are actually dreaming. Being aware that this is a dream does not make it any less powerful. Dreamers often enjoy the feeling of flying and can vividly see the scenery and landscape both below and around them. Most dreamers describe a flying dream as liberating, exciting, or joyful. Flying dreams can also make you feel very powerful.
Many believe that flying dreams can be induced, that is brought about with practice. Some also believe that flying dreams are closely related to out of body experiences, often foreshadowing them. Studies show that many who dream of flying also believe in extrasensory perception (ESP). Experiments have been conducted in which a sender has produced a flying dream in a receiver using a picture with a flying theme.
Negative Aspects of a Flying Dream
However, dreams of flying can be of both a positive and negative nature. The negative aspect of a flying dream is if you dream you are flying away from something. This usually means that in the waking hours, you are trying to ignore a difficult situation or decision. Some professionals feel that flying dreams can be negative because you do not have your feet on the ground, i.e. you are not grounded. You may be overzealous about a situation and need to refocus and get a practical grasp on what is really happening rather than living in a fantasy world.
Some people dream of flying, but they have difficulties staying in flight due to things such as trees or mountains in their way. As you might expect, this means there are barriers in your waking life that are in the way of achieving what you want. First, you must identify what your objectives are, then identify the person or thing you feel is standing in the way of you making those objectives a reality.
Positive Aspects of a Flying Dream
Most flying dreams, however, are positive. They make you feel independent and free. You may also experience the feeling of being able to reach greater heights, that nothing is impossible. Flying also gives you great insight in that you can see both where you have been and where you are going. Many times, people that have jobs that require high performance, such as a salesperson or athlete, have flying dreams. People who are involved in an activity or hobby they love also may frequently experience flying dreams. It is believed that people who dream of flying are of a high intelligence and are very creative and expressive.
If you are lucky enough to have a positive flying dream, be sure to enjoy it. If you love the feeling of flying in a dream and the freedom and exhilarating feeling that comes with it, you may want to learn more about the incubation of flying dreams.
You might also like...
Nice articles.,Very informative.
Siemah
- 30-May-11 @ 9:31 AM