Dreams of the Phone Not Working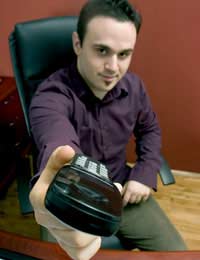 Have you ever had a dream in which you need to make a phone call and you simply cannot? You may be trying to dial 911 to report an emergency but you just keep having problems with the phone. It almost drives you mad as you keep trying to dial and either you dial the wrong number or the buttons just do not seem to work. You may even find yourself dialing the wrong number or having an operator put you on hold. You may wake up feeling both frustrated and anxious.
Many of our dreams involve a phone, whether we cannot dial a number to reach someone or we get through, but we are put on hold. Understanding your phone dreams can help you recognise what is going on in your life and with those around you.
Communication
As might be expected, in our dreams a phone is symbolic of communication. When you dream of using a phone but have trouble, you may be avoiding something or someone in real life. First, you need to determine to whom it is that you need to communicate. In your dream, were you calling a person or a service such as 911? If you were calling a person, think of what communication difficulties you may be having with that person during waking hours. Examine the relationship to see if you are truly being honest with this person about your feelings. Are you thinking of breaking up with your boyfriend or girlfriend, but just do not know how to tell him or her? Do you want to ask your boss for a raise, but just aren't sure how to go about it? All these situations deal with communication and can cause phone dreams.
This dream can also mean that you feel a certain person in your life is not being responsive to your efforts for communication. Is there someone in your life you have been trying to communicate with that is ignoring you? If so, see if you can figure out if it is just a case of them not being interested in communicating or is it perhaps the way in which you are trying to communicate.
Listen to Your Inner Voice
While phone dreams are about communication, sometimes the communication needed may be with yourself. Try to remember all you can about the dream. Were you calling someone, but were put on hold? If you dream of being on hold, it can be symbolic of you ignoring what your inner voice has been telling you. Maybe you have been working too hard and know you have not been getting enough rest, but you ignore any conscious thoughts of slowing down. If you dream you are put on hold, consider re-evaluating what is important in our life and what you can ease up on a bit.
If you dream you are being ignored by a phone operator, again, it may be that you are ignoring your inner voice. You may have been putting off getting help with something, such as a problem like alcoholism or drug abuse. If you have been feeling a weight on your shoulders due to the lack of confronting this issue, seek out qualified help for your problem. Listen to the part of you that is telling you through these dreams that you need help. Usually, your subconscious knows what is best for you!
Dreams of using the phone and it not working can be exasperating, but remember, there is a meaning behind them. Try to see if you are lacking in communication with someone in your life or if you are not being true to yourself in certain situations.
You might also like...
@alley - it sounds as though you have minor frustration in your life that you can never get to the bottom of.
Ziggy
- 11-Jan-18 @ 3:50 PM
I have nightmares a lot and often in them, I try to dail the police, but it won't dial or it won't ring. I can never even get through to them. I can count at least 10 dreams where this has happened and it's still happening and I'm wondering why I can't even get the phone to ring. A friend of mine told me that maybe it means that I need to handle my own problems, instead of looking to others for help.
alley
- 9-Jan-18 @ 9:36 PM
I keep having dreams that I am trying to call my boyfriend and see where he is but either can't find his number or can't dial , etc. :( and I get so frantic! Cry sometimes.. but no tears come out.
I have reoccurring dreams of trying to call the police but never can dial. But this one in particular is bothering me. I was picking my two boys (4&5) up from the bus stop. I had our dog, and my other son (1) with me. We get to the bus stop i get them off the bus. At this point my one year old has vanished from the dream. So I was talking to a friend when our dog runa away. Start chasing her but then stop and its like I never had her with me either. So now its just the three of us. We are walking home but end up having to cut through someones house. (Very weird, walking there was no problem) I don't know the guy, older gentleman. So i get them inside, had to go through a small window like opening. My 4 year old is sitting on a bed. I get my 5 year old and start walking through the hallway to leave, the guy has two dogs on leases, tells us to use the front door. I'm carring my 5 year old. The 1st dog doesn't even acknowledge us. The second, right by the door starts growling. I feel very uncomfortable and scared. He says I can ise the back door if it makes me feel better. So i get him outside, sit him on the step and tell him to wait. I go to get his brother, he's now sleeping. I grab him and get him outside. I close the door and can hear the guy talking. I forget what he was saying but I was scarred and rushing to get out of there. I have to but shoes on my 4 year old, because at some point he took them off. So I'm panicking and just pick up the 4 year old and the 5 year old is holding my hand. We start leaving, fast! We make it across the street and I decide to put his shoes on there. So we are in the side walk and the older guy comes out with his two dogs. I'm uneasy but act like everything ia fine. He's walking his dogs right over to us. Then he says to his mean dog, looking at my sons, "Must be nice to hunt your food." At this point I pick them both up. I'm apologizing saying I don't know what I did wrong. He's not saying anything. So we leave. We are walking home as fast as we can. But for some reason I live far away. He keeps following us. I'm on the phone with the cops explaining Whats going on. Waiting for help. I get disconnected, call back, they tell me that they told me before no one can come, no ones in that area. I'm crying and pleading with them. I run into my sister. So she's now with us. We are still walking home. I'm still on the phone with the cops. Still no help. Next thing I know we are in the house. The guy is outside telling me to send my sons out. I'm still talking to these damn police men when they finally agree to come but will be an hour. And then I woke up. In the dream everything we did and the place seemed normal, in real life I have no idea where that place was and it seems so odd to have to cut through someones house. Also I don't have to walk to pick my boys up from school.
VT
- 28-Dec-17 @ 10:08 PM
Woke up in my parents house. Nobody was there but me. Looked outside to see/hear helicopter looking around for someone. Looked across the street to find men with guns in houses hiding. Went to find back door slightly cracked open. Shut the door, looked through window to see car hiding out in backyard. After I closed the door, men in car with machine guns started firing. Tried calling parents not to come home, but numbers would not dial how I input them. Also tried calling 911, but 911 was not an option on the phone. Jumped on back of guy riding bicycle to flee the neighborhood into apocalyptic world.
Dream3rz
- 26-Oct-17 @ 1:55 PM
@Sadness - are you experiencing any insecurities or distrust surrounding friends? It sounds like someone might be trying to take your friends away or you are distrusting of people currently. As yourself what's bothering you at the moment, you might find your dream is connected to that in some way and then you'll find the answer.
Angie
- 29-Aug-17 @ 2:33 PM
I had a dream that I was in a crowded area. No one knew me but then I saw this group of people pointing at me and started to run after me, so I started to run away. I tied to call my mum and dad several times and all it did was ring...ring and ring and then went to voice message every single time, so I just started running faster I didn't know where I was or what I was doing there looked like it was a party on like mountains, it looked all over the place, something wasn't right so I went into one of like the bar areas and they found me, they put me on a table strapped me down and started to pull my truth out but then, one of my friends came in and saw them pulling my teeth out (luckly they didn't pull all of them out) and after that I just ran away with her and they kept chasing use. The ending was awkward it was just me in a build a bear store and my friend making a bear while I tried calling my parents and then one of the 'workers' turned around and it was one of the guys that was pulling my teeth out and he said 'hello...' and it ended. Something wasn't right about that dream i don't know why.
Sadness
- 28-Aug-17 @ 9:02 AM
@Malez - it might mean you are frustrated about something and you feel you are being thwarted from getting what you want in some way. As it says, sometimes you should listen to your inner voice when it comes to dreams being explained. You and only you have the answer :)
Was having this dream: I was with someone and is a She, shegave me phone numbers but i couldn't dail 'em...was shocked why?
Malez
- 19-May-17 @ 6:45 AM
I dreamed I had two bullets in my hand one was long and big one was big and shorter
susan
- 15-Nov-15 @ 3:41 PM