Dreams of Being Lost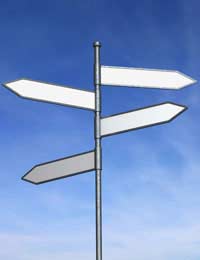 You know where you are going and you think you have taken the correct route. But suddenly nothing looks familiar. You look around to try to locate where you need to be, but you feel disoriented. You even ask someone for directions, but when you try to follow the directions, they seem to make no sense. You cannot even retrace your steps to return to your starting point!
Did you ever have a dream like that? A dream in which you are sure you know where you are going, only to find yourself lost? Having a dream of being lost is very common. It can make you feel confused and irritated when you cannot find the right way to where you want to go. Some dreams may include looking for a lost friend. What is the "lost" dream all about? How does it reflect upon what is going on in our real lives? Can we learn from dreams like this?
Losing Your Way
Dreams of being lost can vary and have many different meanings. The type of dream mentioned above is your mind's way of telling you that you have lost your way in life. Are you paying attention to what is really important in life, or are insignificant things draining you of all your time and attention? If so, you may be losing focus of the big picture. Stop and re-evaluate your life. Make sure that significant areas in your life – marriage, children, and spirituality – are not being ignored because you have no time for them.
Unfamiliar Surroundings
Another "lost" dream scenario is similar to the first one, but this time, you may find yourself in a scary neighbourhood. You are so frightened to be there that stopping to ask for directions is not a possibility. The only thing you want to do is get home, but no matter which way you turn, you cannot seem to find your way. You may awaken scared and fearful. This type of lost dream may signify a difficult decision with which you are being faced. One route may be familiar, but keep you from what you really want. The other route may be unfamiliar, but ultimately will be more satisfying.
Look at your life closely to see what decisions may be making you uncomfortable. For example, maybe you are thinking of leaving your hometown of many years to move closer to family. While the prospect of leaving something as familiar to you as your hometown is scary, the ability to be closer to family – both physically and emotionally – will be a greater payoff in the end. Maybe you are thinking about leaving a job that is boring, but comfortable to start a new career, doing something you love, but with an unpredictable future. Look closely at your choices to see which one would ultimately make you happier. It is always frightening to leave the familiar, but the payoff of an important change could be immense.
Losing Someone Important
Yet another type of lost dream is one in which you lose someone important to you. Maybe you are shopping and you lose a friend and spend the dream searching for them. Of course, you never find them in your dream and you wake up feeling frustrated and sad. The meaning of this type of "lost" dream is pretty clear-cut. Think of people in your life and determine if there is someone important, with which you have lost contact. Examine why that person is no longer in your life. It may be that the reason you lost contact with them now seems petty. If so, contacting that person may put your mind at ease.
Dreams of being lost can be scary – after all, no one likes to feel like they are wandering aimlessly and cannot find their way home. Take time to examine your life, re-evaluate your priorities, see what pressing decisions you have to deal with or what friendships have been lost and for what reasons. If you can sort through those feelings, you may find your dreams of being lost going vanishing.
You might also like...