Dreams of Travel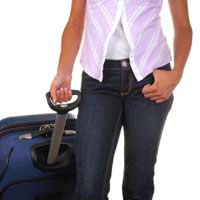 Most people take pleasure in travelling. However when we travel in our dreams, we often encounter obstacles such as missing a flight or taking the wrong train. This may be disturbing and disappointing, but remember that these dreams are trying to help you work things out so you can reach your goals by creating solutions to problems you are facing.
Here are a few of the scenarios that might occur in a dream about travel:
Missing Your Connection
This dream can be very frustrating. You are hurrying to catch a plane, train, or boat and find that you just miss it. You may be travelling with a crowd and find that somehow, you become separated from the rest of the crowd and everyone else manages to catch the connection except for you. A dream such as this may reoccur several times throughout your life. What does it mean?
A dream of missing your connection often has to do with the amount of stress we suffer in our lives. Many of us have so much to do between work and family responsibilities that we leave little time for fun. Some of us structure our schedule right down to the last detail so we can fit everything in that we need to do. Living on a schedule as tight as this can lead to stress and that is what this dream is often trying to tell you. To help prevent it, change up your schedule a bit. Allow some time for yourself to do things that you enjoy. Be sure to incorporate other people into your tasks so you can take a breather every once in a while.
This dream can also occur if you are the type of person that tries to do too many things at the last minute without much preparation. It can be telling you that you need to develop a schedule so you will be at things on time and be prepared without dashing around frantically.
Getting on the Wrong Bus, Train, or Plane
In this dream, you actually are able to catch your mode of transportation, only to find out after it has taken off that you are headed the wrong way. You may feel disoriented and upset as you find yourself pulling further and further from where you actually need to be. In this dream, the mode of transportation may be an important decision. Your mind is exploring what you would feel like if you made the wrong decision.
This dream can also be representative of your life in general. Do you feel that you are going in the wrong direction with your life? Are you not accomplishing goals that you have set for yourself? If so, this dream can be telling you that you need to re-evaluate things and set a new path to reaching your goals.
Yet another interpretation of this dream of travel is that you have certain goals, but they may not be what others want for you. Are you starting a career of which your significant other or parents disapprove? This dream can be a manifestation of the stress caused by wanting to do what you want, yet wanting to please others in your life as well.
Disaster
This may be the worst of all travel dreams – you are on a plane and it crashes or you are on a boat that is shipwrecked. You may feel dazed and confused during this dream and wonder if it is a forewarning of a future event. More than likely, it is simply an assessment of your current situation. The mode of transportation in this dream often symbolises your progress in life. Do you feel detached from your career – as if you have done all you can in your current position? Perhaps you need to consider making changes in any areas in which you feel you are not growing.
Dreams of travel can be particularly upsetting or frustrating because so many of us love to travel. But, if you think about it, we travel through life and these dreams are just trying to help us find our way again to a healthy and prosperous path.
You might also like...
@Joey - driving a vehicle means how control you are of your life. Sounds like you are in pursuit of something in life that keeps evading you (all the different doors) and you are not sure of which route to take, or you are racked with confusion regarding your true path. The fact you got your bike back in the dream is positive - it means you haven't lost control completely. You need to get back on and find the right door for you ;) Jase.
JGF81
- 14-Mar-17 @ 9:55 AM
I was riding a borrowed blue motorbike in pursuit of a person.I had to go through a narrow street and ended up in a road with GI sheet doors.To proceed further, I had to open the door.I got off the motorcycle and opened the door.This led to another short road with a door at the end of the road.I briefly surveyed the road.When I went back to the door, the motorcycle I was riding was gone.I searched for the motorcycle and I was faced with 3 or 4 other doors.After going selecting a door, I ended up in a chop shop ran by an elderly lady.I saw part of the motorcycle and I asked her to return it to me because I was in pursuit of somebody and he or she was escaping.After reasoning out, she told her workers to return the motorcycle back to me.
Joey
- 13-Mar-17 @ 5:05 AM
I had a dream last night that I was on the plane and originally I thought I had gotten on the plane to go to Florida however I was on the plane going to the Bahamas. I didn't realize this until we landed and I was so distraught to be in the wrong place. They told me there wouldn't be another plane going back to Florida for three days and I had absolutely no money on me. No credit cards, no cash, nothing. I would have to book a room for over $3000 just to stay for those three days and I was soo distraught I couldn't understand how I got on the wrong plane. My life goal is to become an actress and since I'm done with school I want to focus on that. I went to school to be a teacher where I graduated with my bachelors and Masters. But I'm currently not working and I have depleted all of my savings account so I have nothing to my name. As it makes me so incredibly happy to be pursuing my acting career I'm so worried because I'm not working and I have no money. I'm stressed out because of this. Do you think there's any relation with my situation to my dream?
Sam
- 20-Jan-14 @ 3:58 PM
@J-J I don't think it's telling you to do anything specific. Sometimes dreams man ifest as a form of wish fulfillment, and this one seems to reflect your desi re to explore your options
dibon
- 13-Sep-12 @ 2:34 PM
What does it mean if I want to leave my job, as I am not satisfied and spoke to my boss about it. He is trying and promising that he will give me more work and money, the main issue.. Anyway.. I want to go.. I had a dream last night that I was on a train, travelling to my destination (it was London, but I live in Italy, I used to live in UK) only to find out that I was on the wrong train, I went to other part of UK, east of London, butwhen I found out, I didnt mind, I told myself I will get off when I arrive, maybe have a look around the town and take the next train back to London. What does it mean? Leave or not my job? Am I doing the right decision as reading about being on the train, I feel like I am taking the wrond decision, should stay where I work now.. But I do not see it promissing.. Please help!!!!!
J-J
- 31-Aug-12 @ 3:43 PM