Why Would My Girlfriend Dream of Her Ex?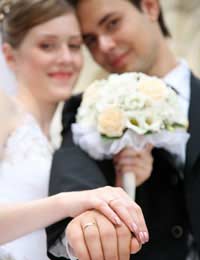 Q.
My girlfriend of one and a half years had a dream she married an old flame from her university days in MY parents back garden, which we have visted in the past.
It was so real she actually had to check her finger to see there was no ring.
She wouldn't tell me who it was, but needless to say I'm not happy about it. Can you tell me what it all means?
(GF, 12 February 2009)

A.
Knowing that your significant other is dreaming about an ex is understandably alarming, but it rarely means that he or she wants to reconnect with that person. You have to look beyond the ex to see what the dream really means. If she just recently broke up with the ex, she may be trying to subconsciously resolve issues over the breakup and heal her feelings and psyche. This is especially true if she is dreaming about the two of them arguing. While she may feel like she has moved on from that relationship during waking hours, her mind may be reminding her she still needs to resolve her feelings about it.
More likely, it is that she thinking about a particular aspect of that former relationship. Most people date because they find attractive qualities in their mate. But, with the good comes the bad and often couples cannot overcome their differences and break up for whatever reason.
However, in our subconscious, the part of that mate that we loved is still very much alive. What she is dreaming about was that quality, not the man himself. Try to find out what the two are doing in her dreams. Is there something he did that you don't? If they are doing something romantic in the dream, analyse your relationship and see if the same type of romance is there. If not, you may want to try to improve in that area. Did she dream the two were house hunting? Maybe she is ready to take your relationship to the next level. Try to focus on what was going on in the dream and not just the person in the dream.
The mere fact that your girlfriend mentioned that she dreamed about her ex should help relieve any anxiety that she wants to get back together with him. If that were the case, she probably would have felt guilty and not have mentioned the dream to you. The fact that she shared this dream shows how closely she feels to you. Chances are, she is just as puzzled about this dream as you are.
You might also like...
Me and my husband was together for 13 years before we got married , after our marriage he starts seeing another random girl and he fell in love with her and he said one day that he wanted us to break up and honour separate ways, I was heartbroken , he came back the following day and park his stuff and left me for her, I was desperate because I love him with all my heart , one day I as I was browsing through the net on how I can get my ex back , I came across this powerful love spell caster who did a love spell that brought him back to me , in less than 48 hours my husband came back begging me to forgive him , I am so grateful great mutaba for your help, if you want his help add him on WhatsApp +2348054681416
Dobry
- 25-Jan-23 @ 5:14 PM
@Stevied - do you have anger issues - or are you stressed out currently? Attacking people can often mean you feel angry, frustrated, stressed or just mad at the world currently. It doesn't mean you are going to go and do this for real - but the fact your niece was there you may be worried you are going to do something you might regret. Generally, it's just a way of venting your frustrations - a bit like a computer game.
AngieG
- 15-Jan-18 @ 3:26 PM
I dreamt I was in a supermarket and I don't know why but I felt everyone in there was a witness and I had to get rid of them so I stabbed them in the throat with something that instantly made them drop to the floor (no blood). Then I realised that one of them was my 10 year old niece and I scooped her up and gave her mouth to mouth and she instantly came round.
Stevied
- 13-Jan-18 @ 9:57 AM
I dreamt of my ex being all comfy with his new girlfriend. Woke up completely heart broken yet again, baring in mind he left her for me. In the dream there was me and a friend, in a room, and he was there with his girlfriend, all happy and loved up. It upset me because thats the bits I miss, and to some level I still can't believe he's left me.