The History Of Dreams In Ancient Cultures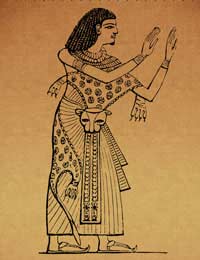 You may think that dream appreciation and dream interpretation began with the Father of Dream Analysis Sigmund Freud. But actually, people have been fascinated with dreams and visions and their meanings for hundreds of thousands of years. Most felt that dreams were, at the very least, a foreshadowing of what was to come.
Some believe that people of ancient cultures may not have been intelligent enough to be able to distinguish between the dream world and reality. It is understandable that they may have interpreted the dream world to be the more powerful of the two worlds, with its vivid imagery and uncertain meaning. However, as you begin to read more about ancient cultures thoughts on dreaming and visions, you will find that they were very advanced in their thinking.
The Egyptians And Dreams
The Egyptians were great believers in dreams and their powers and influence. The Dream Book is a papyrus that contains dream examples and dream interpretations and it is believed to date back to the early reign of Ramesses II. All dreams were listed as good or bad, with the bad dreams being written in red, which was the colour of a bad omen. The Dream Book is currently part of the archives at the British Museum in London.
The Egyptians believed their gods showed themselves in dreams and visions. They divided their dreams into three categories: those in which the gods demanded things, those that were warnings, and those that came to them during dream rituals. Regardless of the type of dream, they felt all dreams were oracles - that is, answers giving to them by the gods. Hoping to induce dreams, some temples held special "dream beds" on which people would lay, hoping to have a dream of advice, comfort, or healing.
Dreams And The Greeks
The Greeks also believed in good and bad dreams and the process of inducing dreams and visions. However, they had a ritual they undertook before entering a temple to cleanse themselves. They would abstain from sex, meat, fish and fowl for 48 hours before entering the temple. They also drank only water. They would sacrifice an animal to the god they wished to see in their dreams. Upon entering the temple, they would then lay on the skin of the animal they sacrificed, hoping for insightful dreams.
Dream And The Babylonians
Like other ancient cultures, the Babylonians too believed that dreams were either good or bad, with the good dreams being sent by the gods and the bad dreams being sent by demons. They also saw a distinction between the dreams dreamt by rulers and leaders and those of the common man. Like other ancient cultures, the Babylonians saw a strong connection between their religion and dreams, with visions being powerful. They even had their own Goddess of Dreams, Mamu, whose job it was to ward off bad dreams.
Greek Mythology And Dreams
As for Greek mythology, the god Hypnos was seen as the embodiment of sleep. It was believed that he touched people with a magic wand or fanned them with his wings to make them sleep. Hypnos had three sons, known as the Oneiroi: Morpheus, Phobetor (or Icelus) and Phantasos. Morpheus was seen as being the one that shaped dreams, including the beings that appeared in the dreams. Phobetor was the creator of frightening dreams and Phantasos was the creator or tricky or fantasy-like dreams. Greek philosopher Aristotle thought the interpretation of a dream of illness was simply the mind recognising signs of illnesses that consciously the person did not notice.
The Hebrews And Dreams
The Hebrews felt good dreams came from God and bad dreams were from evil spirits. They also tried to receive dreams in the temple. The prophet Samuel was noted as sleeping in the temple of Shiloh before the Ark to try to receive dreams from God. Even the Bible talks about prophetic dreams such as that of Jacob's ladder.
It would seem that throughout time, dreams have held significance in most cultures. And many ancient people regarded dreams and visions so highly, they sought them out. Dreams were often thought to be prophetic - a thought still held by many today.
You might also like...
Your dream of still water symbolizes your subconscious. Seeing a mother bear and a cub, for a woman, means that she would be experiencing motherhood. Bears also symbolize independence and wisdom. Bears also represent the Goddess or the feminine side. For a man, seeing a bear in a dream means that he is being empowered and encouraged to be independent, fearless and courageous.
Elom
- 20-Nov-19 @ 5:53 AM
HELP ME UNDERSTAND A DREAM I KEEP HAVING: I AM AT THE POND WATCHING THE STILL WATER WHEN A BIG BLACK BEAR WALKS UP AND SITS DOWN WATCHING ME EVERY MOVE I MAKE THE BEAR MIRRORS WE STAND FACE TO FACE I HAVE NO FEAR OF IT OUR MOVEMENTS MATCHING EACH OTHER THAN A CUB COMES UP THE BLACK BEAR WATCHES AS THE CUB AND I HUG THEN THEY WALK OFF WHAT COULD THIS MEAN
QBIRD
- 9-Jul-19 @ 3:07 PM